October Technical Luncheon
Devon Energy
333 West Sheridan Ave
Oklahoma City , Oklahoma 73102
USA

Thursday, October 19, 2023
,
11:30 AM
-
1:00 PM CDT
Category: Events
---
OCGS OCTOBER TECHNICAL LUNCHEON
"Redefining Recoverable Reserves in the Eagle Ford: Refrac - Hydraulic Fracturing Test Site 1 (HFTS) Phase 3"
Cameron Thompson, et.al., Devon Energy
Thursday, October 19th, 11:30am-1pm
Devon Tower
333 W Sheridan Ave
Oklahoma City, OK 73102
Cost:  OCGS Members $25;  Non-members $35
Speaker Bio:  Cameron Thompson is a Advising Geologist in the Mid-Continent & South Texas Business Unit at Devon Energy, currently focused on the Eagle Ford Shale asset. He has a vast experience with subsurface characterizations and full cycle project evaluation and execution in several major U.S. basins including the Anadarko Basin and Gulf Coast regions. Cameron is a graduate of Oklahoma State University with a B.S. and M.S. in Geology and has a combined 17 years industry experience.  He is a member of the American Association of Petroleum Geologists and the Society of Petroleum Engineers.
Abstract:  
This paper presents a multidisciplinary approach to evaluating reservoir drainage patterns and hydraulic stimulation interactions among a development of both existing and new wells. Analysis of an extensive diagnostic package focuses on the potential to capture stranded reserves via refracs and infill drilling within the black oil window of the Lower Eagle Ford Shale, DeWitt County, Texas.  The project consists of a unique setup of primary (parent) wells, new infill wells, and a horizontal well devoted exclusively to observation. Liner refracs were performed in two of the primary wells, with the remainder receiving preloads. It also included the collection of a horizontal core, formation imaging and advanced lateral logs, sealed wellbore pressure monitoring (SWPM), downhole fiber-optics (both permanent and deployable), seven downhole pressure gauges, time-lapse geochemistry, and iterative production interference tests. This substantial dataset provides vital calibration for well spacing, completion strategy, and field development.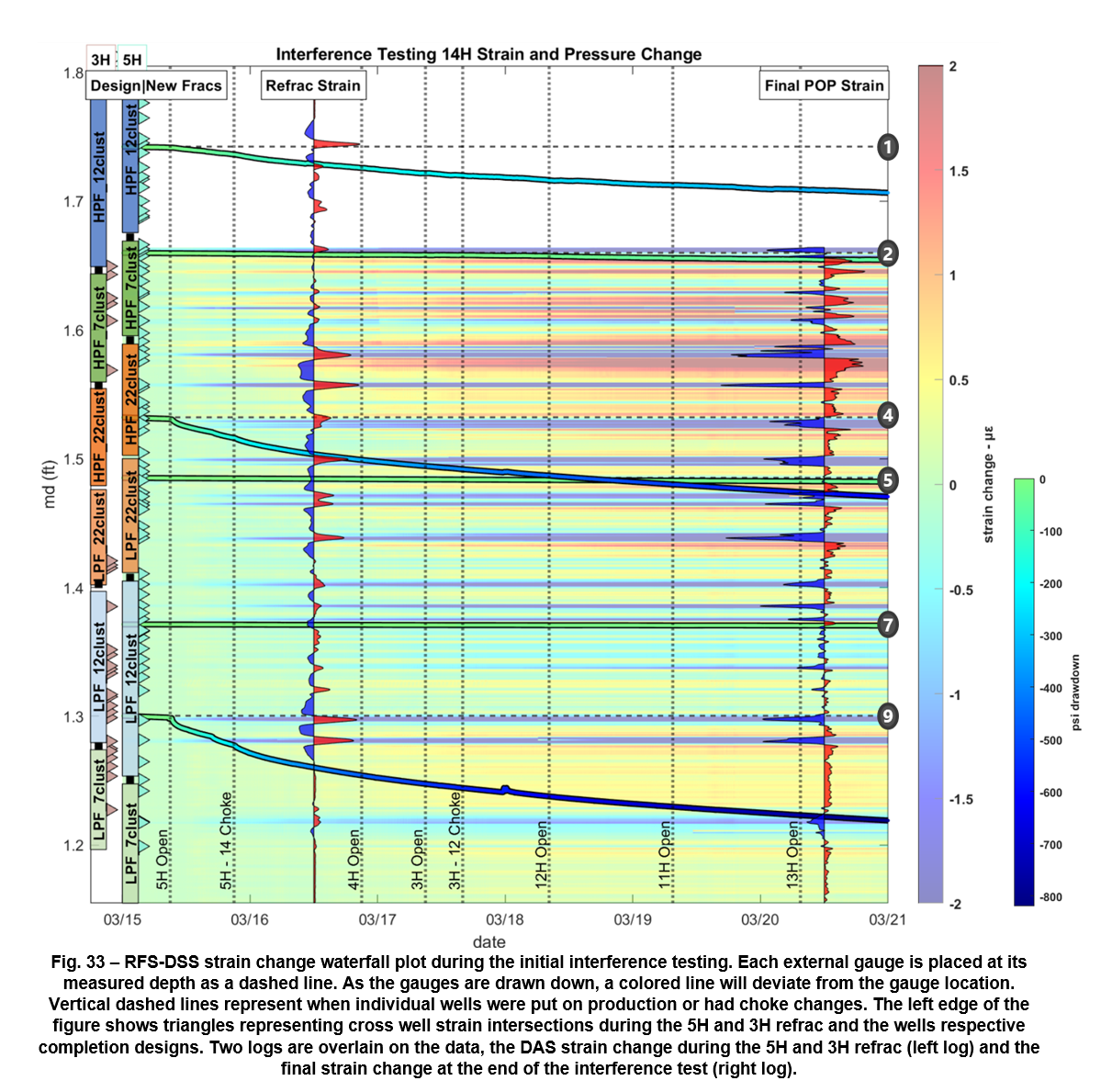 ---